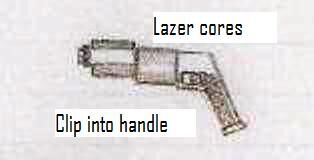 A Lazer handgun
Characteristics
[
]
It has the 10 revoliving cores the beta slugga can shoot more without heating up. Its Battery Clips goes into the handle.
Use
[
]
it is good as a secondary weapon but is slightly larger then the Alpha Class Slugga. It can pierce armor easily so can also be used akimbo.
Origins
[
]
Its just what happens when you take the lazer abilities of the Hyperion 900 Rifle and shrink it into a pistol.